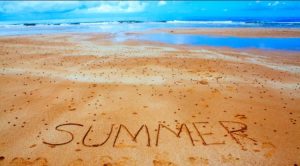 A surprising number of people had this question throughout the years…"Do you even have a summer vacation"?!? Haha! We did indeed have a real summer vacation – every single time our school year was done!  This post inspired by my dear cousin who is homeschooling her two youngest, while her oldest tries a year in public school- their summer breaks don't start at the same time so she, and the kids baked a chocolate 'summer cake' to kick off the season in a sweet way!
Honestly, there are many ways to answer that question…I knew homeschool families who did not take a traditional summer break- they did school-work two, or three days a week all year long. People can choose to work through the summer to get ahead- graduate early. I even knew a family who did minimal classwork during the regular school year- choosing to do most of it during the summer months.
The bottom line is that learning does not have to occur only between September and June…learning that learning can happen at any time is a valuable lesson- personally, I remember feeling that if summer vacation didn't get here ASAP I could possibly drop dead right there at my desk, and I would never have chosen to do anything remotely resembling school until I had to go back.
Here at the Smiley Academy we used a program that had us on a set schedule- we could work ahead or behind if we needed to, but we had a definite start/finish date. When my kids were younger, I had them complete a summer workbook each year…15 minutes a day every day till it was done – I started doing this just in case they weren't learning enough during the school year, but the many benefits became clear quickly- they were more than ready for the next grade when school resumed in the Fall. I'll admit that at first- I had to resort to bribery, but my kids soon began to see the good for themselves – even choosing to do a summer class here and there at our local Jr. college as they got older.
Not because I'm amazing, but rather because I had so many doubts and worries about potentially turning my boys into weirdos, I found academic/career oriented college summer camps for them to attend once they'd reached high school. I could write pages and pages about how beneficial these turned out to be- actually, I did! You can read all about it the book!!
No matter how it gets done- enjoy your summer!!! 😊