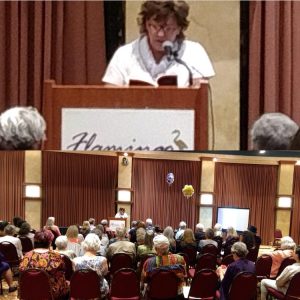 Last Suday I had the distinct honor and pleasure to be one of the featured authors at a local book clubs' 'New Author Launch'. Each of the speakers got to talk a little about how their book came about, then read from their newly published work for 5 minutes. After everyone had their turn at the podium we sat at tables with our books displayed for sale. It was great fun!
Twenty books were featured – a diverse collection…a journey through the '60's complete with photographs of nude beaches –  an apocalyptic dystopian end of world young adult novel – a tale about a dog written from the dogs point of view, to name a few.
This was not my crowd- not my target audience. I was one of the youngest people in the room (I'm 53). None of these folks had schoolage kids, and from chitchatting before the event I gleaned that most were fairly liberal, hardcore public education types. I didn't expect much traffic at my bookselling table.
Nevertheless…as I sat at my assigned table- books laid out in front of me for all to see – they came out of the woodwork. An adorable little lady who had to be 100 years old stopped and picked up my book. She grinned at me and said, "I'm going to buy your book because you presented so well, and you must be so brave to have done this. I want to see how your story turns out".  I was touched – almost cried😊. A retired public schoolteacher approached and said she admired the decision to do school at home, and would do so herself in this day and age. An older white haired couple who had presented a book about their traveling gypsy puppet performing days stopped by and told me they homeschooled in the gypsy caravan back in the early '70's  – they loved it, and love that it's a 'thing' now.  One of the few people at the event younger than myself took pictures of my book so she could share it with her 'many friends who are considering the possibility' of school at home – to hopefully buy on Amazon😊
By the end of the afternoon way more people than I ever dreamed had stopped to mention something about knowing someone who did, should've, or wants too – do school at home. I was pleasantly surprised. We are everywhere!